Good evening, students. My name is Arthur Henderson, and I am an artist. Ergo I am here tonight to talk to you about art. Specifically, and for the purpose of example and education, my art.
What does it mean to be an artist? Well, like any good master of their craft—doctor, chef, teacher—"Artist" is a title to hold dear, and with honor, because it is a representation of the years a person puts into honing and perfecting their craft.
For me, as a true artist, my work is about the joy, and the thrill of creating. To show to the world your unique inspiration, made manifest on canvas. I wake up each day knowing that hundreds, thousands, perhaps millions of people will see my work. What drives you as an artist is the goal to reach that day. That day when you know in your heart you have created a masterpiece.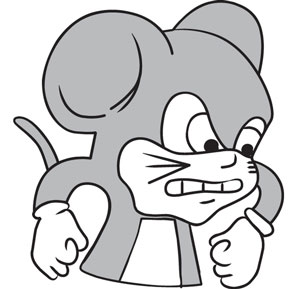 That day, when my most esteemed patrons came to me asking for a work that would become the very symbol of their enterprise, I knew that this would be my greatest achievement. Like a spark of divine guidance, through my hands that which I already knew was there became manifest on paper. It was that day I knew I had finally achieved my calling. My greatest work: the angry mouse graphic for the Northwest Exterminating Service Advertising Department.